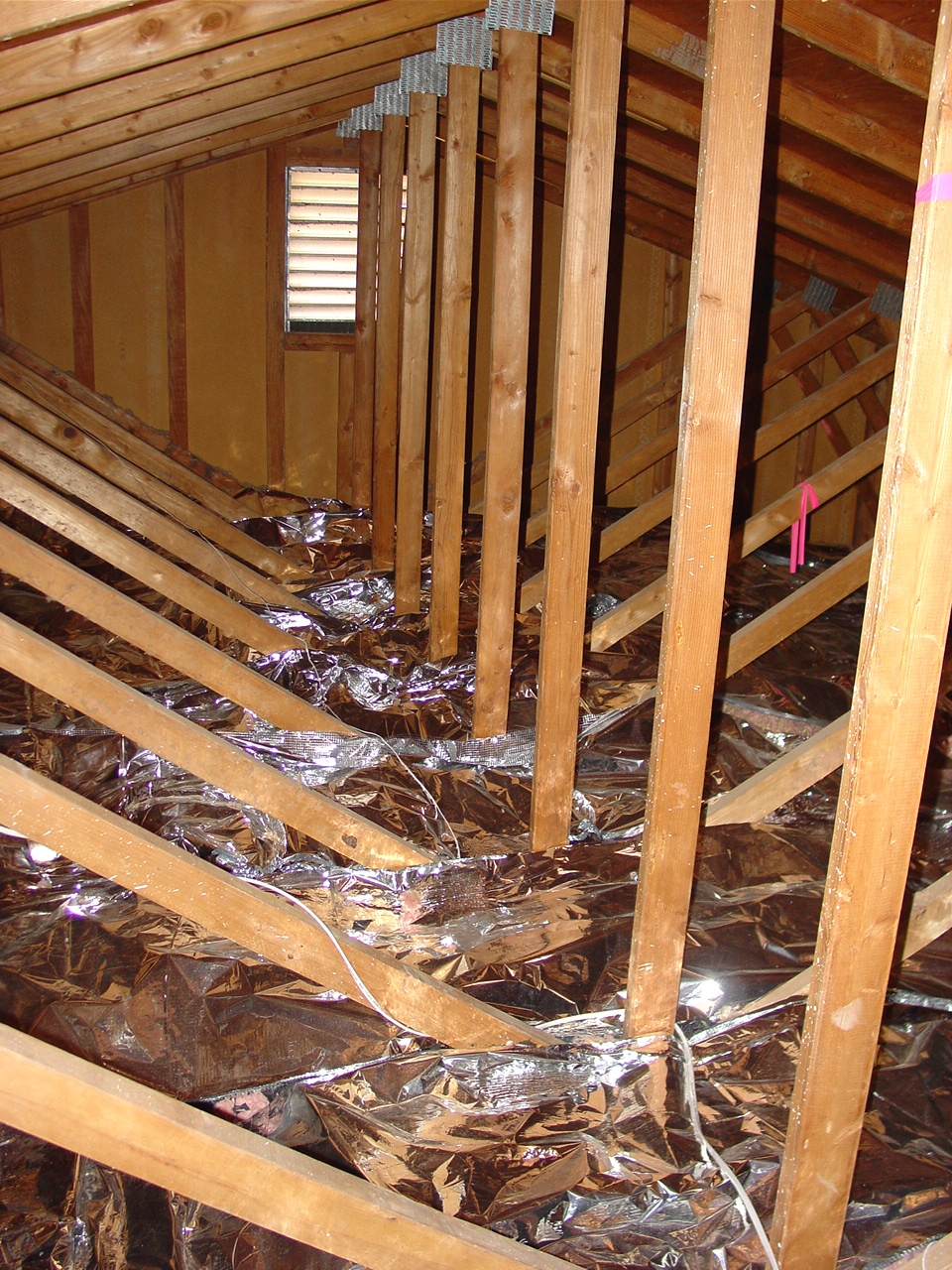 NOTE: If you see this image on other web sites they have an imitation. There is only one
TCM Space Quilt. And only TCM Space Quilt has a lifetime performance warranty. Don't accept anything else.

Shown here is TCM6/26 which is 26" wide and provides an overlap on homes built with trusses
set at 24" on center. Other sizes available for walls and roofs.
If you live in a hot climate and are considering adding more attic insulation to make
your home more comfortable and save energy please read this first before you make
a costly mistake:
"I have a house in New Mexico and I'm at my wits' end. I've had a lot of
insulation work done in my attic and it's now R-50, but the house is
still incredibly uncomfortable in summer. In fact after adding 10" of
fiberglass to the attic floor, I spent more money on cooling than I did
during the prior summer, and the house was much less comfortable, too.
The attic is unbearably hot inside.
Will any of your products remedy this situation? I have already spent a
lot of money for nothing. Fool me once, shame on you…
It does get cold here, but not too cold (occasional snow, but it rarely
goes below 20f). It's so dry that I doubt condensation will be a
problem. The relative humidity in the house never rises above 30%. The
attic has trusses 24" OC".
Nate
---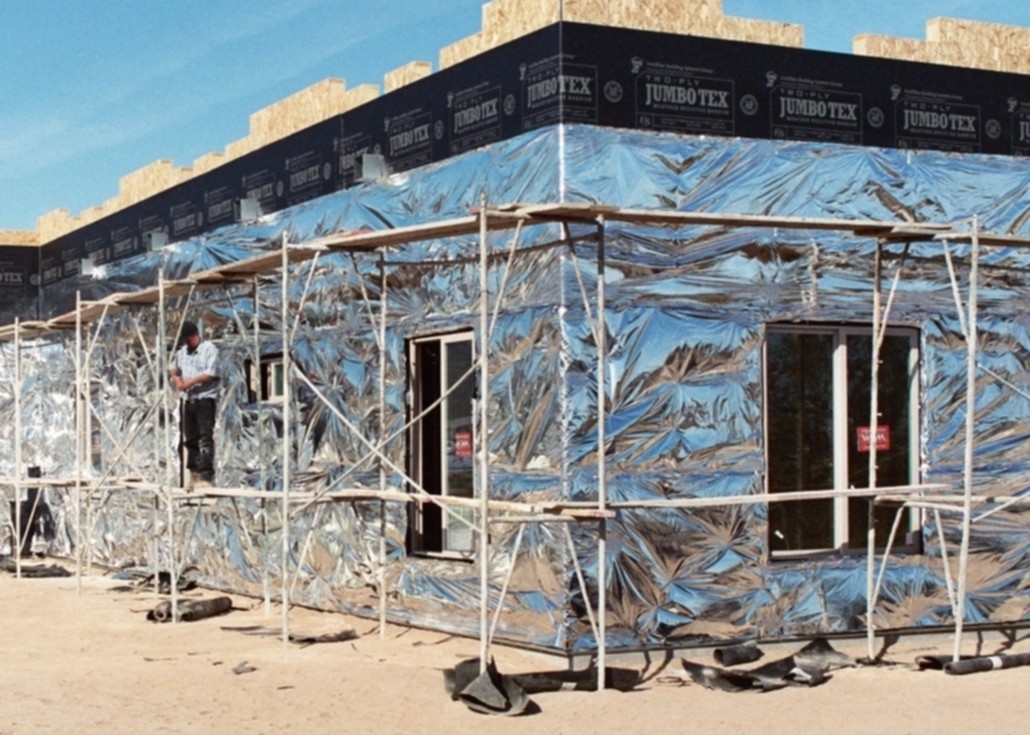 TCM is the ultimate wall insulation
If your new home or addition does not look like this before the exterior is applied, you will be paying too much for your comfort. The TCM6 product shown here wrapping the walls and roof of this new home allowed for a 50% reduction in the sizing of the heat pumps (7 tons instead of 14)
For cold climates TCM-6 should be
installed just behind the sheet rock as
a vapor barrier and an effective heat
barrier.
Secure online
ordering here
---
Our latest addition to our TCM line of products: a multi-layered TCM
membrane with a flat black reinforced bottom membrane that can be
stapled up without worry of it falling down over time like other radiant
barriers that are not reinforced.
This for the look where architects want a finished flat black look at the
ceiling. For a video of the finished project click here.
What our customers have to say: Click here
Significant savings and comfort: Click here

* The ultimate home insulation product in sunny climates
* Holds heat in during winter
* Keeps heat out during the summer
* Cuts Energy Costs, eligible for tax credits! Click here
* Easy to install
* Increases Comfort
* Lasts forever
* Money back Guarantee

Thermal Control Membrane is a multi-layered, thin film material that is very effective at controlling heat flow.. This means infrared heat, the most basic type of heat, changes direction and goes back where it came from. We then suggest our German attic fan to exhaust this rejected heat.

TCM is a proven approach at increasing comfort and reducing energy consumption. Click here for a recent testimonial and installation pictures
Why Choose Us?
Well, I finally received my highest APS bill for the year in August 2008. September actually dropped from August and same month LAST year was $658.00, THIS year.....$330.!!!!!! Absolutely amazing! That's almost half! You told me that I could expect to be even MORE comfortable in my home, saving energy and money at the same time, but this is over-the-top! I could not be happier, only wish I'd found out about you a couple of years earlier. Hope all is well on your end, please feel free to use my endorsement anytime, anywhere. Homeowners and Businesses alike NEED to know about this technology! Get Cracking!
Hope you are having a great summer! I've been meaning to get over to you a couple or so of the most recent APS bills for you to take a look at. The July one came today, and I am really excited! They dropped our monthly payment (on the equalizer plan) from $316/mo to $283/mo. After the July payment, we will have a CREDIT balance of $739.29. Total charge for electricity was $238.90 for this July!!! The charge for power in July of '08 was a whopping $514.32. How about that?
The Average daily cost of electricity in July, '08 was $16.59; for July, '09 it was $7.96. Pretty impressive!! Our percentage of on-peak use last July was 40%; this month, it is only 7%!!!
Denise Kalt
Actual APS energy bills one year apart