German Attic Fan
Powered Attic Venting
The importance of venting your attic cannot be overlooked. In cold climates improper venting can lead to moisture build-up which causes mold growth, wood rot in extreme cases or even ice in the attic insulation. In hot dry climates stagnant air can dry out your trusses, increase your energy costs for air conditioning and make your house uncomfortable. If your home is like most that we inspect it is severely undervented. You can add more soffit and exhaust vents but at what cost? Power venting may be a more cost effective and efficient method of achieving your goal. However, venting is just part of the problem. A well ventilated attic will reduce the convective load. The largest component of heat gain or heat loss in any home is infrared heat. Control this and you can really save!
We have found in our full scale testing of homes with a radiant barrier installed that passive venting is not sufficient to remove the millions of BTUs changing direction from the reflective surface and that power venting is required. Solar fans sound like a great idea, right? Sun comes up, creates free energy, spins a fan to remove the hot air from the attic. In theory this makes sense. The reality however is much different. Question: At what point during the day will the solar fan put out the most amount of power(assuming a Southern exposure for the PV panel)? Answer: Solar noon. Next question: When does the attic require the most amount of venting? Answer: Between 1:30pm and 7pm. When the attic requires the most amount of venting the solar fan is putting out the least amount of power.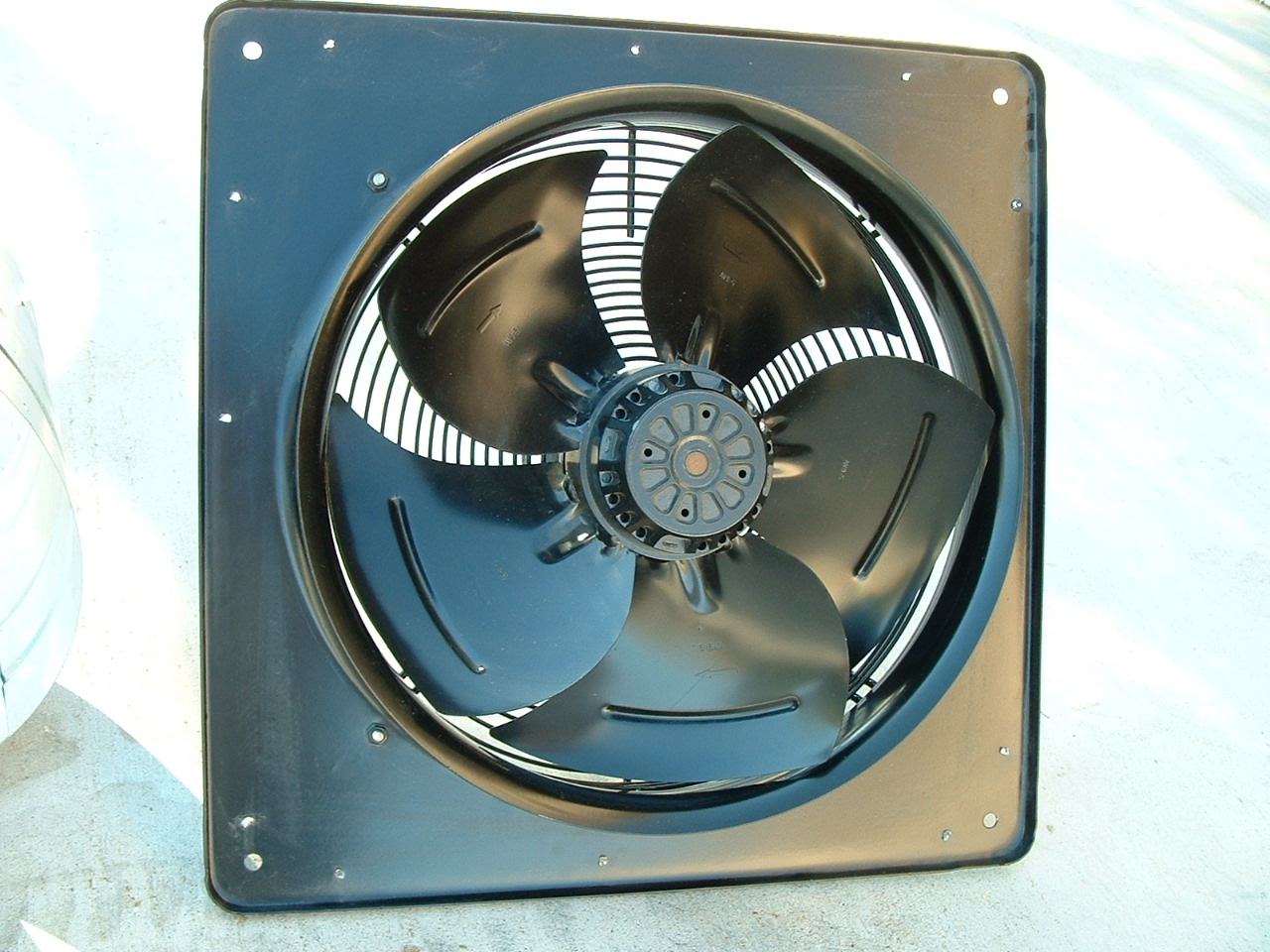 We import a vibration free, powerful, reliable powered attic fan manufactured in Germany. This attic fan is unlike any other available. It is quiet, powerful and very efficient. We include an adjustable thermostat and an optional mounting box with this system. This fan features an external rotor to which the fan blades are welded. This unique design reduces blade flex and vibration and eliminates one of the shaft bearings. The bearings are sealed and never need attention. Install it, set the thermostat and forget about it. The 14" fan consumes 245 watts. At a national average of .10/kwh running for eight hours a day that's less than $6 per month. There are sites on the 'net that say the power consumption of an attic fan does not offset the cost of running it. The goal is keeping your A/C off as much as possible which consumes 1600 watts per ton. Logic would dictate running a fan for $6/month would be preferable to longer run times on your A/C unit from the stagnant, overheated attic air and the load on your ceiling.
Exactly how quiet is this powerful German fan?
Here's what a home store, Chinese fan sounds like:
This shows a typical home store attic fan installed on a gable vent inside the attic. Although the mounting looks secure, the application is incorrect since the space around the fan is not blocked off. The fan will create a negative pressure behind itself that will draw air from the vent openings around the fan. This means very little air will be exhausted from the attic and most of it will be drawn in around the fan. The open area around the fan shroud (the round ring), needs to be blocked off with cardboard or wood to make this type of installation effective. We see this type of installation on almost every home with an attic fan!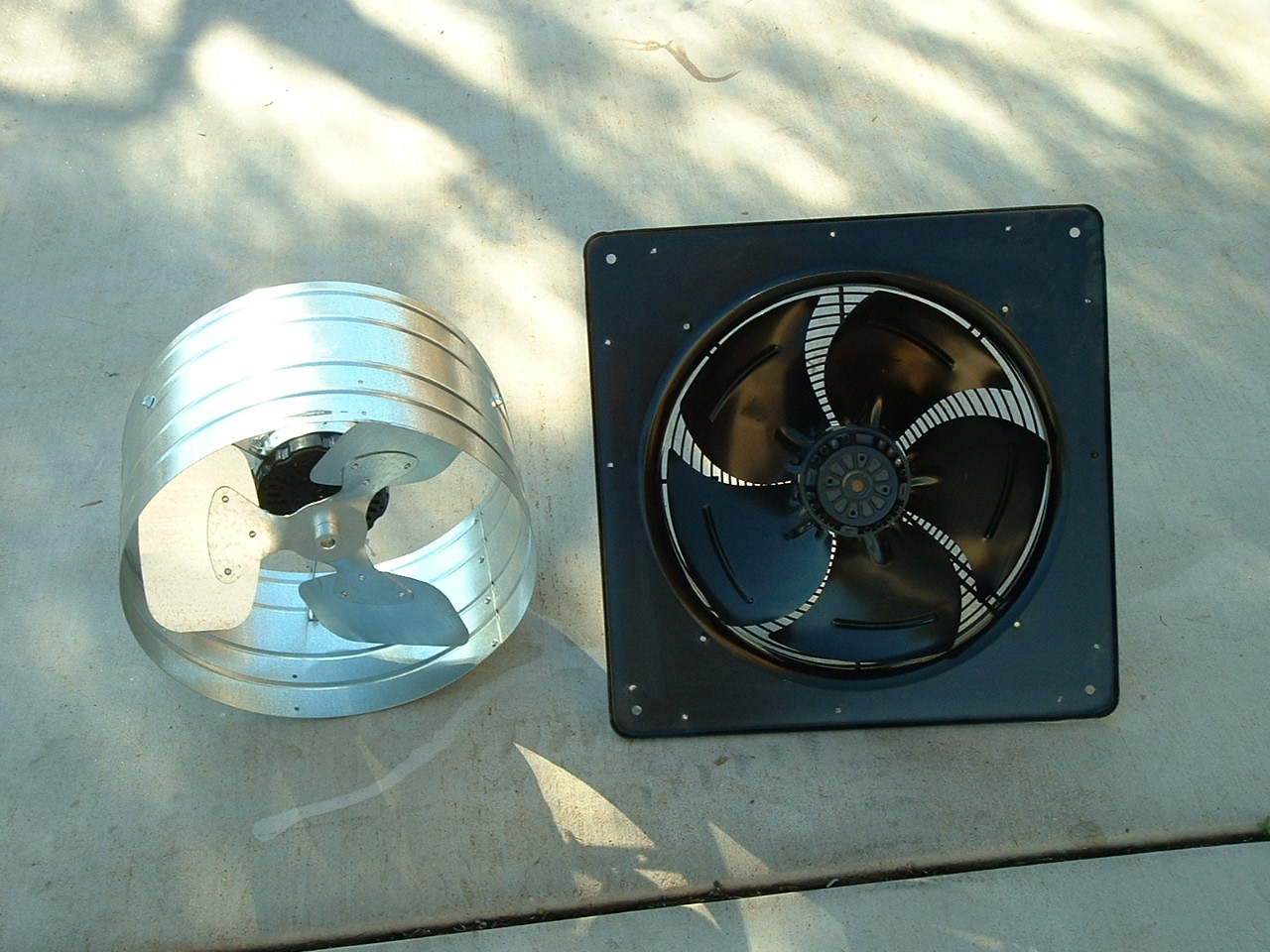 Which fan looks like it's more efficient at moving air out of your attic? Over the years we have found home store attic fans to be a liability to our installations and the only weak link in our proven NRG Package. Since a properly installed radiant barrier increases attic air temperature by keeping unwanted heat from getting to the insulation, removing this waste heat has forced us to become experts in attic ventilation.
Warning:
In homes that have gas appliances such as water heaters or furnaces in the attic, great care must be taken to insure adequate intake venting is provided (gables/soffits) so as to not create a negative pressure that will draw fumes down the chimney of gas appliances. Installing an attic fan in this application has the potential for fire or filling your attic with carbon dioxide. Make certain there is sufficient intake openings to circumvent this situation. If in doubt, please do not hesitate to contact us.
Fan Mounting box dimensions:
10" fan: Mounting box is 10"x10"x4" with a 1.5" flange
10" fan: Mounting box is 12"x12"x4" with a 1.5" flange
12" fan: Mounting box is 14"x14"x4" with a 1.5" flange
14" fan: Mounting box is 16"x16"x4" with a 1.5" flange
16" fan: Mounting box is 19.5"x19.5"x4" with a 1.5" flange
Fans Need Exhaust Air!
To mount this fan under a roof deck we recommend using an Aura Vent of the appropriate size listed below:
10" German fan: 12" Aura Vent
12" German fan: 14" Aura Vent
14" German fan: 16" Aura Vent
16" German fan: 18" Aura Vent
PRICING OPTIONS:
Price includes the fan with thermostat and 6' of control wire pre-wired to the thermostat which speeds up the installation. You need only to mount the fan, mount the thermostat using the supplied junction box and wire nuts and bring a 110volt power supply to the thermostat. Prices below also include UPS ground shipping. We strongly suggest the sheet metal support box to facilitate the installation. It's the best $40 you'll ever spend.
SUGGESTIONS FOR SIZING
(Go up to the next larger size for steep pitched roofs)
10" fan 624 CFM $332 (sufficient to ventilate attics up to 700 square feet)
12" fan 1208 CFM $373 (sufficient to ventilate attics up to 1375 square feet)
14" fan 1800 CFM $444 (sufficient to ventilate attics up to 1850 square feet)
16" fan 3054 CFM $468 (sufficient to ventilate attics up to 2800 square feet)
The above recommendations are sized for attics with a roof pitch between 2/12 and 5/12 pitch. Steeper roofs have more volume and thus need the next larger fan to obtain the necessary air exchange per minute. Roof orientation (South/East, etc), and roof color also are considerations. If your needs dictate more venting because of these parameters, order the next size up to be safe.
Pricey? They sure are, you could buy four home store fans for the price of one of these. However, plan on replacing that home store fan every year because that's how long they last Once this job is done you never want to see it again. The durability, thermostat and sealed motor bearings (that never need lubrication) ensure that once our German fans installed you won't ever need to worry about them again.
If you open the box upon delivery of this item are not totally impressed with the craftsmanship and quality please return it for a full refund. We'll even pay for the return shipping! We are that confident of this item. We do not offer any product on our site that we have not field tested and trust for our online customers.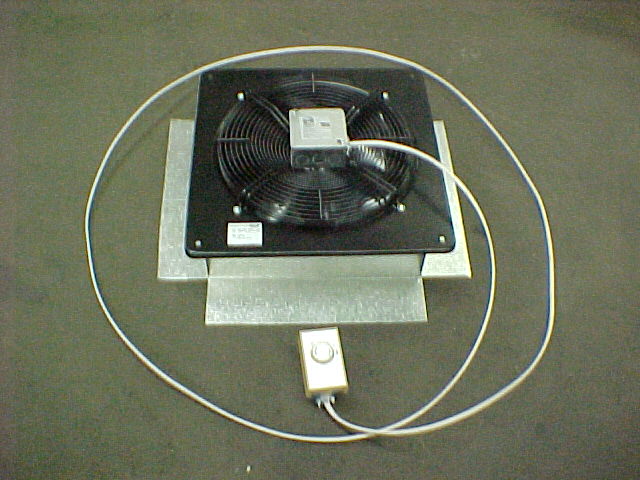 Here is our German attic fan shown with optional fan mounting box and 6' of romex pre-wired to an accurate, adjustable thermostat. You only need to mount the included 2"x4" junction box (near the peak of the roof), and supply a source of 110v power to the thermostat. We've done the rest of the work for you! Shown here is the junction box with the unit pre-wired, just add power! Set the Thermostat at 110f and forget about it, no oiling, no service is ever required. You will need a hammer to mount the junction box, a screwdriver and drill to mount the sheet metal box to the vent. Simply mount what you see to the left over a gable vent or large size roof vent (at least 14"), mount the thermostat, add a power source and start saving.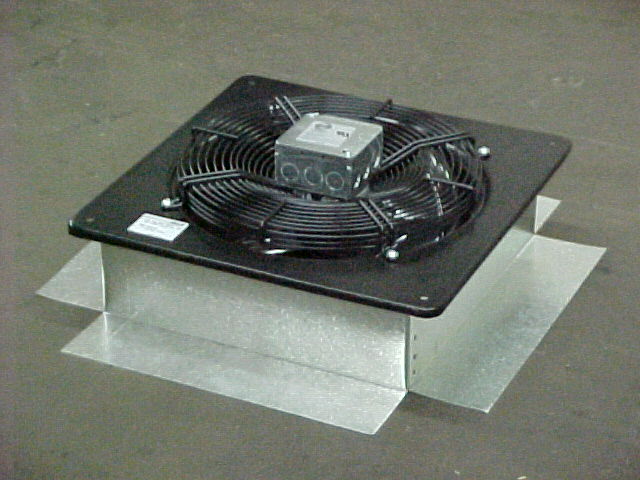 We fabricate this sheet metal fan Mounting Box for our Phoenix installations and thought we should offer it to our online shoppers as well. The design allows for a smoother discharge of air as it fully takes advantage of the aerodynamic design of the shroud and large side flanges. The mounting box also decreases the installation time as the fan is pre-mounted to the box. Just hold the box up to the wall or roof and screw in the entire assembly. We sell this on our online store for $40 and free shipping if included with fan order.
________________________________________________________________________________________________________________________________________________
Testimonials
I purchased a 12" German attic fan to help remedy a 56 year old house that has suffered a lot of water damage from moisture accumulating in the attic and then running down the north wall during the winter months. - I have kept the new fan running almost constantly for several months now. The fan runs as well as the day it was installed. The power of this little 12" fan is truly amazing! - Because of the power and quality of this fan, I have since purchased a 10" and an 8" fan for uses other than attic power ventilation. These two new fans have the same quality and amazing power (for their size) as the 12" fan does.
The 12" German made attic power ventilator fan was everything that Horizon Energy of Phoenix, Arizona said it would be - AND MORE!!! The amount of air it moves is very impressive, and it is relatively quiet considering the power of the airstream it generates. The dimensions of the fan and mounting box given on the website were very precise, and allowed me to build a good mounting surface in advance of delivery. - Sheet metal mounting box was very sturdy. - High quality all around.
Was very pleased with the product provided. The fan operated very smoothly and quietly, much quieter than I expected. This is exactly what I was anticipating and the reason why I paid a premium for this product. It was satisfying to receive exactly what you expected.