Thank you for considering Horizon Energy Systems for a home Energy Audit. For the last 28 years we have been inspecting Valley homes and know where to look problems. Our solutions are desert proven and Climate SpecificTM and we are the sole source for these products.
At the end of the audit you will be given a plan of procedure and the related costs illustrating the benefits of each product and/or service. There will be no high pressure sales person calling the office to get you "approved" for a lower cost during the visit. We charge $89 for an energy audit which is refunded should you decide move forward with our suggestions and remediations.
The following is typical of what we've heard from customers having a utility based energy audit performed on their home for $99:
"I started researching ways to save money on my monthly power bill and attended a class on energy conservation that was at the public library. Overall the class was promoting the Home Performance with Energy Star energy audits performed by various APS and SRP certified contractors for $99. I thought this was a good idea and several weeks later I had the energy audit on my house. The audit consisted of two parts. The first part was the actual technician coming out and performing various tests on my house to get the data for a custom energy report. This was actually informative because I followed the tech around asking questions as he went.
The second part of the audit was supposed to be an energy conservation expert coming out to go over a custom made detailed report based on the specific data for my house. In actuality a salesman, from a completely different company than the technician, presented me with a report geared to sell the pre-made, tier based, package he was selling. The report was pretty much the same as the one I received from the questionnaire APS provides on their web site. It did not have any of the actual figures from the tests that were performed a few days before by the technician except for the pictures taken of various parts of my house and some thermal images. One thing that immediately stood out was the pie chart showing 17% of my total usage went to the water heater. This seemed high until he explained the different tiers based on estimated monthly savings (20%, 30%, and 40%). The 40% savings tier, being the most cost effective and the recommended way to go includes a solar water heater. From this information I basically concluded the $99 audit was basically a way to up sell me to a solar hot water heater I do not want, need or can afford at this time.
After this I continued my research and found the Horizon Energy Systems website. The information they provided made sense, especially the mention of climate specific products and what works in the desert and what works in cold climates. Based on the first audit I was in the process of air sealing my home and wondered just how much all this work was going to benefit me. I don't see how hot attic air is going to find its way down through the insulation into my walls from the attic. I was informed by Alex Johnson, a researcher at Horizon Energy Systems, that air sealing was designed for colder climates where high winds and sub zero temperatures could impact a heating bill. I don't have that problem here in Phoenix but I did in Chicago where I'm from. The suggestions and products from Horizon Energy Systems I have installed have made a big difference in the overall comfort and energy savings.
I would highly recommend Horizon Energy Systems as energy experts and great source for information on energy conservation"
Thank you,
J.C. (name witheld by request) N. Phoenix
Contact us to schedule a professional energy audit!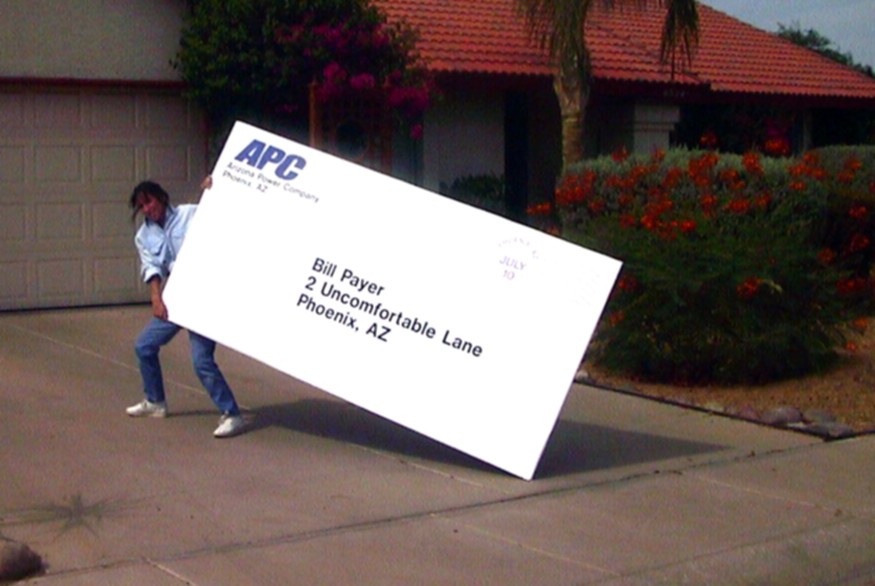 Are your utility bills getting too large to handle?
Having an energy audit done by a trained professional is the starting point on a path to determine what products, means and methods are best suited for your home. Every home is different and has specific needs, issues and symptoms. Furthermore, the products and procedures must be applicable to the specific climate the home is built in. The majority of what homeowners hear is esoteric speculation masquerading as science.
The building science group at Horizon Energy Systems has been doing in-home energy audits here in the Valley of the Sun since 1980 and we have found problems specific to local home construction which vary with age of the home, how it's constructed and even which direction it faces. Local utility companies now offer a $99 "Energy Audit" by "Trained Professionals" (few are trained HVAC specialists). Our inspectors went through this training to become eligible for the utility based audit programs and related the following:
WHAT WE KNOW
Having been inspecting homes since 1980 and we know where the problems are that affect energy use and comfort. We know what products are best suited for a desert environment (adding more insulation will increase energy use and make your home more uncomfortable (more on this
click here
). We have also developed and now manufacture product specific to our desert environment...we call these products "Climate Specific" and our proven track record of performance is documented on our web site.
Checking the "tightness" of a home (air sealing), is a great idea in cold climates where it's minus 20F outside and the wind is blowing 40mph. This can reduce comfort and increase heating bills. We have neither in the Valley and it's our experience this is not Climate Specific remediation in our environment.
Blower door tests are an excellent way of finding duct leaks in hidden walls, crawlspaces or areas where air ducts cannot be visibly inspected. Horizon Energy Systems had the first blower door in this state and we used it for years (and still do), to find leaks or voids in house framing that cannot be determined from a visual inspection. Once a blower door test is completed you have a number assigned which indicates total home leakage. Since building tightness is not as critical as in a cold climate and most (over 95%) Valley homes have air ducts that can be inspected, does it not make more sense to just assume there are duct leaks and seal them as opposed to paying for testing to see how leaky they are? Then pay again to have a crew come out and seal them? We think so as well and therefore do not use a blower door for duct testing.
Adding more attic insulation: Since there are Federal and utility based incentives for adding more attic insulation, this is recommended by most companies. Testing with ASU in 1991 on side by side identical homes has proven that insulation stores heat and then passes it on through the ceiling many hours after the sun goes down. Again, think "Climate Specific"...would you wear a sweater in August to do yard work to keep cool? Insulation is very effective at keeping heat in a home but acts as a thermal storage system making your A/C run longer and reducing comfort. Our patented Thermal Control Membrane is the only effective reflective insulation that has a lifetime performance warranty and keeps heat out during the blazing Valley summers and also keeps heat in during the winter. It's also the only reflective membrane that is impervious to performance degradation over time due to the patented design. Horizon Energy Systems was started in 1978 in the frigid Midwest where adding more insulation proved to be a benefit by keeping heat in. Keeping heat out is what we need in our environment and adding more attic insulation will not accomplish this. Never has, never will.
This email came in 1/30/16:
"I have a house in New Mexico and I'm at my wits' end. I've had a lot of insulation work done in my attic and it's now R-50, but the house is still incredibly uncomfortable in summer. In fact after adding 10" of fiberglass to the attic floor, I spent more money on cooling than I did during the prior summer, and the house was much less comfortable, too. The attic is unbearably hot inside.
Will any of your products remedy this situation? I have already spent a lot of money for nothing. Fool me once, shame on you… It does get cold here, but not too cold (occasional snow, but it rarely goes below 20f). It's so dry that I doubt condensation will be a problem. The relative humidity in the house never rises above 30%. The attic has trusses 24" OC".
Nate
Shade Screens: Our infrared testing has shown that a black, high density shade screen makes windows hotter, not cooler. They become miniature solar ovens trapping air and heating it to over 135F when the infrared heat from the sun strikes them. Far better is to apply a quality window treatment that changes the direction of heat and sends it back outside. This remediation works both in the summer to keep heat out and during the winter to keep heat in.
Radiant Barrier: We have found over the years that radiant barriers installed in the valley are either manufactured incorrectly (one layer), installed incorrectly, or a combination of both. A correctly manufactured reflective membrane should help control heat gain, heat loss and be impervious to performance degradation from dust in the attic and walls. We can assist you in choosing the correct membrane for your application.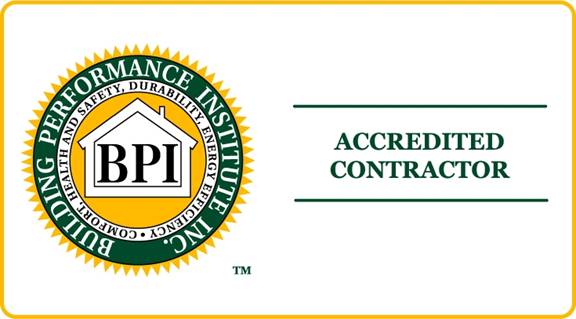 WHAT IS AN NRG AUDIT?
An energy audit of your home will reveal areas that are currently wasting energy, decreasing the quality of the indoor air, lowering your comfort and wasting money. The cost of oil and natural gas are on the rise and historically, don't go back down which raises the cost of making electricity. Rising energy costs are going to continue. Conserving energy an excellent investment not only financially, but also increases the comfort of your home and makes your HVAC equipment last twice as long (they run half as much). A stable 25% (or more), return on your investment is easily achievable and can only offer a higher return as energy rates continue to rise.
HOW MUCH CAN I SAVE?
Your savings depends on how many existing problems are found. The more problems we find and fix, the more you save. Since 1991 we see savings on your entire energy bill ranging from 25% to over 50%. Again, it depends on how many problems are found and addressed.
WHAT ARE THESE "PROBLEMS"?
The largest problem we have found in homes is the movement of heat. Understand heat is like gravity, it never stops moving if there is a difference in temperature (Delta T), and the higher the Delta T, the faster it moves. Infrared heat emits into the insulation from 1/4" hot, stucco walls and hot roofs that can easily reach 160 degrees. This heat easily travels through the walls and ceilings of homes and is stored for hours in the insulation. This is why your home is most uncomfortable in the late afternoon/early evening and costs so much to stay comfortable. The proof is asking where the most uncomfortable room is in the house. Almost every time it's the Southwest corner as this is the area in the sun the longest and when infrared heat is the most intense. Or, the room farthest from the source of cooling.
WHAT WILL BE DONE IN OUR HOME?
We have had several problems in the recent past with other companies claiming to do what we can do or abusing our products. For this reason we choose not to divulge our trade secrets here but will be happy to show in detail in your home our desert tested, proven, proprietary products, procedures and applications. Every home has different needs so there is no "cookie cutter" solution for all homes. Please don't fall for one. Before your buy anything from anyone, get the facts and ask for documentation.
HOW MUCH IS THE NRG AUDIT© GOING TO COST?
To send a certified energy auditor out to your home for an inspection and documentation costs $89. Should you decide to implement our energy package the cost of the NRG Audit tm is refunded. Have an expert tell you where to best invest and how to increase the comfort of your home by spending the least amount as possible.
HOW LONG DOES IT TAKE?
The NRG Audit© takes about two hours for a 2,000 square foot home. Call today, the longer you wait, the more you are wasting. (602) 867-3176 Or email our office and let us know what day would fit both of your schedules. We would like to talk to both of you so let us know when we can sit down together so all of your concerns can be addressed and solutions provided.
ABOUT US
Horizon Energy Systems was founded in 1978 and is currently a licensed, bonded and insured Arizona HVAC contracting company. We are BPI Certified and members of the Green Building Council and the Arizona Solar Energy Association and have an A+ rating with the Better Business Bureau. We have been inspecting and upgrading homes in Maricopa County since 1981. Horizon Energy also manufactures energy conservation products products that have been tested on homes just like yours. Proven results, guaranteed performance, right here in Phoenix. Our products are Climate Specific, patented and tested by ASU and private testing laboratories
GET INFORMATION FROM YOUR UTILITIES PROVIDERS
APS customers call: (602) 371-7171 ask for last years consumption history including demand charges . This is available to you and there is no charge. Also request a rate card for the Combined Advantage Rate and the new APS ECT-2 rate.
SRP customers call: (602) 236-8888 ask for last years consumption history. This is available to you and there is no charge.
Southwest Gas customers call: (800) 873-2440