vsRadiant Barrier Chips over Attic insulation and energy conservation are important. Home Depot has many answers. Home Depot carries venting and radiant barrier products,. radiant barrier is a great way to lower energy costs. Fiberglass, cellulose, R factor, and energy conservation

Radiant Barrier System Chips
© (RBS Chips), is a reflective metalized film product that changes the direction of heat through your ceiling. Keeps heat out during the summer and in during the winter. Significant savings (minimum 20% reduction on your energy bill, most savings well over 30%.
Cost of RBS Chips is $250 per 20lb box including shipping which covers between 350 and 400 square feet of attic area. (1/2 boxes available, please specify when ordering). This price also includes the use of our installation blower, hose, attic lighting system, cords and mask.
Use this product in low pitched or hard to access attics/areas as the chips can be blown from the machine up to 8 feet away. For conventionally framed attics that are easily accessible, we suggest using our latest product,
Thermal Control Membrane
, a sheet type product that is rolled out over your existing insulation.
A testimonial from Tim Carter of Ask the Builder click here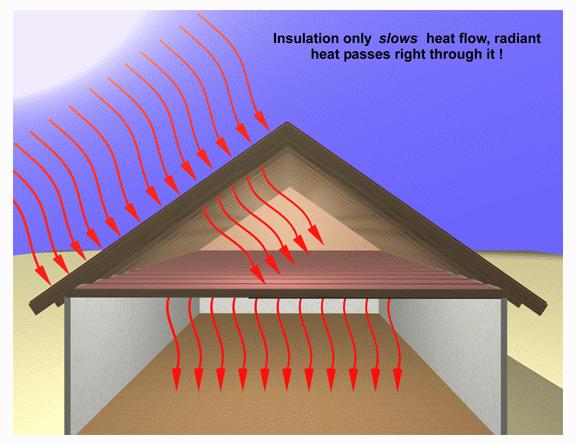 Your home during summer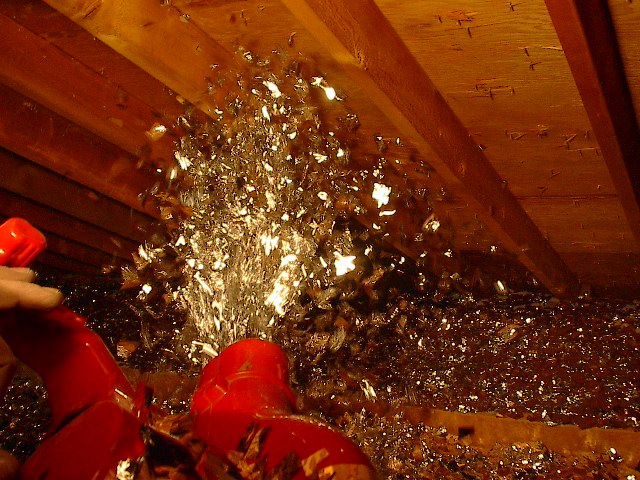 Testimonials
click here
RBS Chips being installed in an attic. The higher energy costs rise, the higher the return on your investment.
Click here
to see a video of RBS Chips being installed.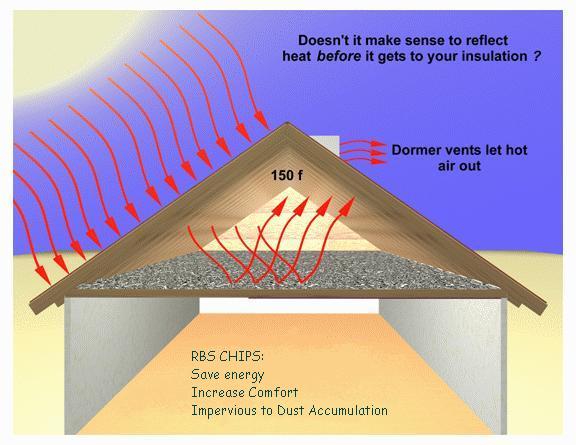 Your home with RBS Chips

Click here to see animation

ATTIC INSULATION
What you have in your attic right now allows heat to move through it. Out during the winter and in during the summer. It's called "insulation" and insulation is rated by it's ability to resist the flow of heat. Why resist the costly flow of heat when you can easily change the direction of heat?

RADIANT BARRIER CHIPS
This revolutionary new attic insulation product has been proven to be the most effective method for increasing the comfort of your home and reducing energy costs. Simply blow this reflective product over your existing insulation and change the way your home feels....forever. Never add attic insulation again!

COST
First of all, RBS Chips don't "cost" they pay. This is an investment that will offer you a minimum of a 25% reduction on energy costs and becomes more valuable as energy costs rise. Further, what is more a more comfortable house worth to you?

To find a dealer near you click here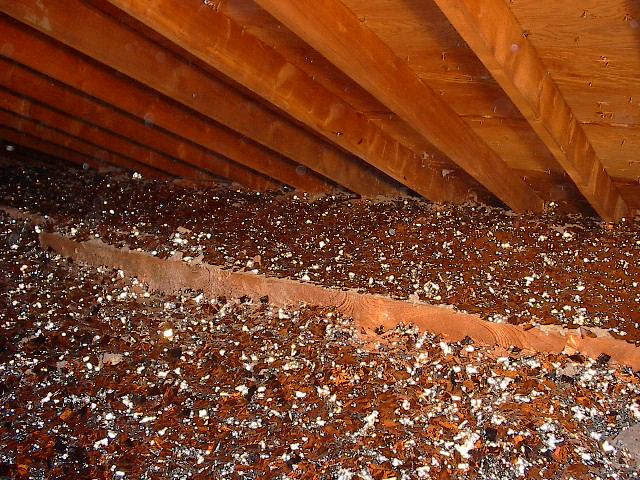 Millions of Radiant Barrier Chips change the direction of heat very effectively with
layers of highly reflective surfaces. Time tested and proven in all climates.
The only radiant barrier patented to be protected against dust
and has a lifetime performance warranty.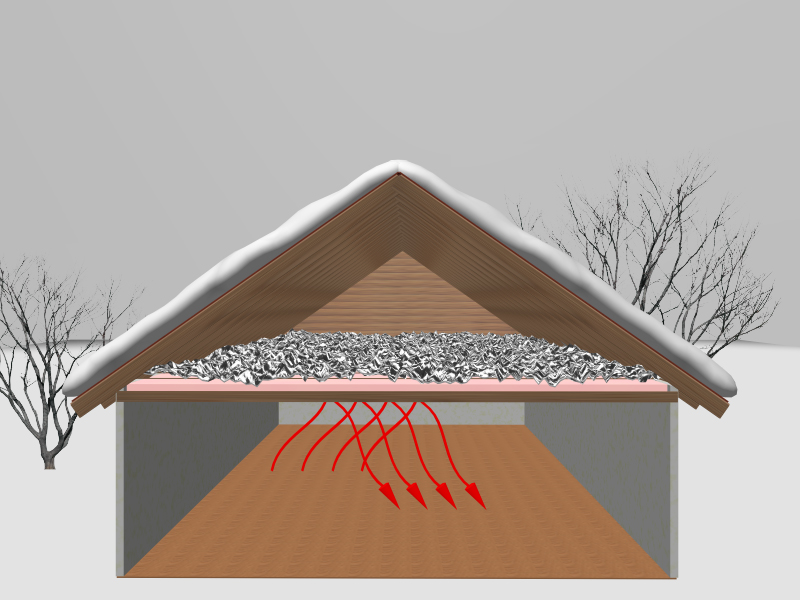 RBS Chips retain heat in winter
Radiant Barrier Chips keep heat in and helps prevent ice dams Makes drafty rooms feel toasty warm.
TCM stapled in the crawl space has been proven to change the way a home feels in cold climates instantly.

Why chips? Why not just roll radiant barrier out over the insulation in the attic?
click here



If you are considering placing RBS in your attic ask the manufacturer if they offer a lifetime, transferable performance warranty.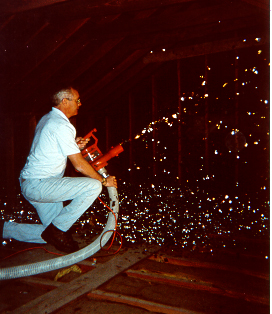 Millions of RBS Chips are blown over your existing insulation and settled down like snow creating a virtual blown in Thermos Bottle effect. Keeps heat in during the winter, heat out during the summer.


Simple to install with our installation kit that's included with your order of RBS Chips. Pay an equipment deposit which is returned upon the return of the installation hose. More information on installing RBS Chips in your home click here.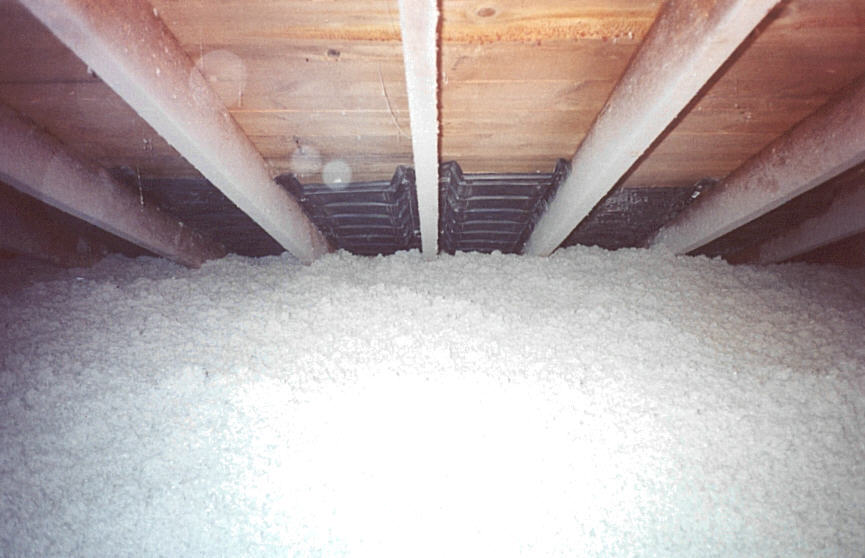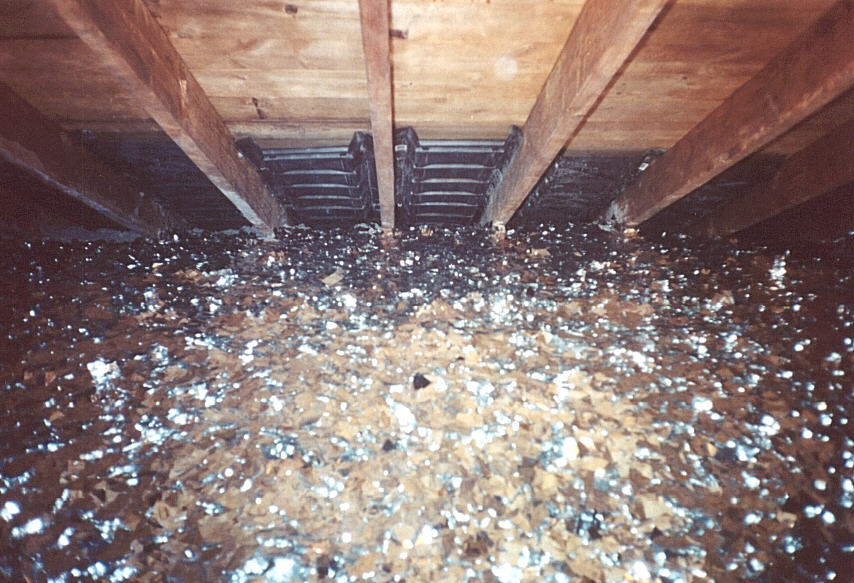 Before After
---
Each 10" square box weighs 20lbs and contains enough RBS Chips to cover approx 350sq feet feet of attic area depending on how level the insulation is in your attic now. The more level the upper surface of attic insulation, the better the RBS Chips will perform and the better coverage you will achieve.
If you currently have blown fiber glass or batt fiberglass in your attic now it is recommended that a 2" cap of blown cellulose insulation be installed prior to the RBS Chips. The cellulose allows for more level surface and better performance from RBS Chips.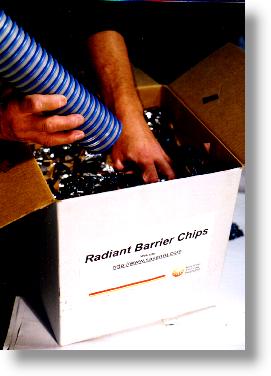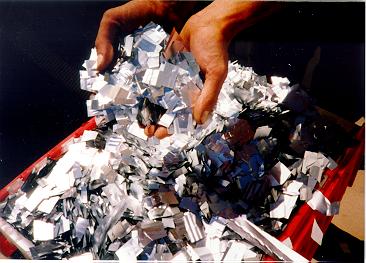 Frequently asked questions:
"What about dust? I read dust will degrade the performance radiant barrier in my attic"
Very true statement, dust has a very high absorptivity and high emissivity. This means infrared heat can actually be collected instead of reflected once the top layer gets dusty. Since most radiant barriers come in roll form there is no protection against dust.
RBS Chips are blown in so there are eight to ten layers of metalized surfaces facing each other, each separated by an airspace. Dust will collect on the top surface but these surfaces are sacrificial to the layers below. This is the basis of the patent on RBS Chips. . . they are dust proof. For more information on the effects of dust,
click here.
"Isn't installing radiant barrier in an attic difficult?"
It is if you are stapling it up to the rafters (not recommended for optimum performance). However, blowing millions of reflective 1" square chips from our 4lb blower is simple and allows for better coverage. It's also fun to watch!
Another benefit of RBS Chips being on top of the insulation and not stapled up to the rafters is the reduction of heat loss during the winter. RBS Chips is the only radiant barrier that has sufficient permeation to allow the migration of moisture in cold climates without causing condensation problems. Some of our strongest testimonials come from cold weather users.

"RBS Chips are costly"
The age old adage: "you get what you pay for" really applies here. In most applications of radiant barrier in sheet form there is 2000 square feet of radiant barrier in a 2000 square foot attic.
There is 20,000 square feet of RBS Chip material in a 2000 square foot due to the multiple layers being approximately 10 layers deep. This redundancy is the basis for the higher performance, dust protection and trapped air spaces.
Further, metalized film is slow and expensive to manufacture, especially when both sides of the product are coated. This is the same product NASA uses in space to protect astronauts and equipment.
Think of this investment like this: The better it performs the better your investment. Everyday of every year. And as energy prices go up, so does the return on your investment.
Free samples
Click here


For an in home energy audit in Maricopa County click here
Or contact our Phoenix office at: 602 867 3176



No matter where you live, you can benefit from EcoGuard RBS Chips. The RBS Chip provides protection from energy consuming infrared heat gain during the summer, and heat loss during winter months. The more extreme the outside conditions, the better they work!

Winter and summer customers:

January 16, 2003

To:  Horizon Energy Systems

Re:  Radiant Barrier Chips installed in 2002

We had the radiant barrier chips installed last February.  We have now 
went through an entire year of seasons -- very hot and cool weather.  Our 87
year old father is living with us, and the more even temperature of the
whole home has helped with his arthritis problems.  We have noticed 
also the comfort as well as the reduction in energy used both in the heat of
summer in Arizona as well as the cool dryness in the winter.  As
electricity and gas heating prices have gone up, our utilities have
decreased significantly.  I have recommended this product to my
coworkers and they have had this product installed in their homes also 
and are very satisfied with the results.

Sincerely,

Charles & Sandra Hurt, Phoenix, Arizona  



This from Michigan
6/10/01
The installation of your product R.B.C. has brought to our home the highest degree 
of heating/cooling efficient we could possibly hope to attain.
 
Our home is primarily heated with a Vermont casting wood burning stove. Our living 
space is on two levels, approximately 2300 sq. feet. With your product in the ceiling, 
and air movement with a fan system we can comfortably heat the entire space. We
 have also noticed a significant drop in our usage of wood following, your installation
 of Radiant Barrier Chips. 
RBS Chips have a dramatic "leveling" effect, it takes the home much longer to cool off
 after it is heated for winter days, and longer to heat up during the summer days after
 it is cooled off during the night time hours.
Your product "does it all" winter and summer.
Thank you for your creative genius.
We will never understand any building residential or commercial not using RBS Chips
Yours truly 
Doug and Iola 
Gladwin, Mi 48624


Thermal Control Membrane Cuts Heating/Coolings Costs click here

Become a dealer! Click here

Testing of Radiant Barriers Click Here
Where is the best placement for radiant barriers? Click here

VENTING IS IMPORTANT!
Since the RBS Chip is designed to reflect heat flow away from your insulation, it's important to allow this heat to escape. We add dormer vents, soffit vents or power ventilators on every installation.
Click here for info on attic venting

If you live in Phoenix or the surrounding area click here




If you have any questions Click here to email us






Web page design and maintained by B Rad Design Group
Copyright text and photos, keywords and hypertext 1997-2009 Horizon Energy Systems. All rights reserved.
Violators will be prosecuted
Information in this document is subject to change without notice.
Other products and companies referred to herein are trademarks or
registered trademarks of their respective companies or mark holders.